Contact
Want to connect with people making this happen? Keep in mind, these are not the "organizers." These are not the folks in charge. There is no executive director of Last Night. This is a people's event and everyone is pitching in to help however they can. These are some folks who've agreed to talk about Last Night.
Photos
Visit our photo gallery featuring large high-resolution captioned images. Generally, you are free to use these for your own grassroots and anti-profit endeavors. However, if you want to use one of these images for commercial purposes (including for-profit media), contact the photographer and obtain permission. Naturally, you'll use appropriate photographer/artist credits, right?
Press Coverage 2007
Santa Cruz Last Night DIY Street Party
IndyBay - January 4, 2008
"The parade ended with a street party at the intersection of Cooper and Pacific that featured firedancers, lots of musicians, free hugs, unicyclists, a fire barrel, brazen square dancing, a pillow fight and much more!" Photos by ~Bradley
Santa Cruz Last Night DIY Parade
IndyBay - January 4, 2008
"Hundreds of people marched down Pacific Avenue in Santa Cruz....." Phtos by ~Bradley

Musings From Within the Triple Fun Zone
IndyBay - January 2, 2008
"Hundreds of people marched down Pacific Avenue in Santa Cruz....." An open letter from Rico.
DIY Parade Draws Crowd in Santa Cruz
KSBW News - January 1, 2008
"The Do-It-Yourself Parade brought the crowds out to downtown Santa Cruz to celebrate New Year's Eve."
KION News New Year's Wrap-up
KOIN News - January 1, 2008
"A much less organized New Year's Eve party... it had rebel revelers rolling through downtown Pacific Ave. But police say they frown on the parade because it's done without proper city permits. Police say it is up to the do-it-yourself-ers to keep things orderly..." Video - Around minute 2:15 of the broadcast.
Sentinel Video: Last Night DIY
Santa Cruz Sentinel Online - January 1, 2008
Video from the New Year's Eve parade in downtown Santa Cruz. Music by Santa Cruz Trash Orchestra.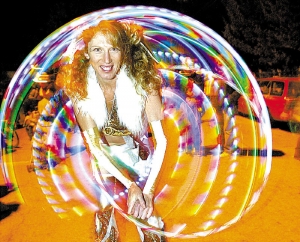 Photo by Dan Coyro - Santa Cruz Sentinel
New Year's Eve goes full throttle at Last Night DIY parade
Santa Cruz Sentinel - January 1, 2008
"The drum beat was loud and slightly off tune, and the array of colorful wigs and masks with mismatched costumes made downtown light up like Halloween."
It's New Year's Eve!
Register-Pajaronian - December 31, 2007
"An eclectic collection of jugglers, fire dancers, stiltwalkers, clowns, samba drummers, art cars, freak bikes, interactive art, music and marching bands."
KION News Now 12.31.07
KOIN News - December 31, 2007
Audio only - Listen up around minute 1:43 of the broadcast.
Downtown Santa Cruz braces for New Year's revelers
Santa Cruz Sentinel - December 31, 2007
"Whitney Wilde's sewing machine will get a much-needed break after tonight."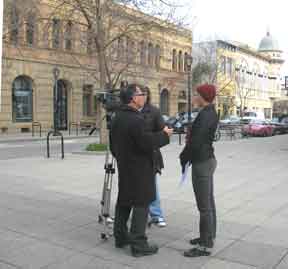 KSBW TV
KSBW TV - December 27, 2007 - 5pm, 6pm and 11pm
Sylvia gave an excellent on-camera interview about the parade with Phil Gomez, but I couldn't find online video of it!
YouTube from yourthebestbuyer
Santa Cruz DIY parade 2007
Press Coverage 2006
YouTube video of firedancer - great sound!
"Harper + fire poi = almost catching pants on fire."
Local News: Weird, wild and safe: Santa Cruz New Year's Eve a unique celebration
Santa Cruz Sentinel - January 2, 2007
"A peaceful and jubilant New Year's Eve gave way to a calm New Year's Day, one of the quietest holidays in memory, law enforcement officials said Monday."
Be sure to check out the multi-media presentation for the sights and sounds of the parade. Dan Coyro did a great job of capturing it.

Welcoming 2007
Register Pajaronian - Jan 3, 2007
"Pacific Avenue was filled with musicians, unicyclists, fire jugglers, Santa Clauses on bicycles, a stilt walker and even a fake Dick Cheney Sunday night as hundreds of mostly Santa Cruz residents celebrated the final hours of 2006."

New Years Eve Do-It-Yourself Parade Returns to Pacific Ave
Mid-County Post - Dec 26, 2006
"The eclectic Last Night Santa Cruz parade will return to downtown Santa Cruz again this year, gathering near Saturn Cafe at sunset and marching the length of Pacific Avenue to a final "hoe-down" near the clock tower."

Coast Lines: Parade Group Plans To Skip Permit (PDF)
Santa Cruz Sentinel - Dec 20, 2006
"Organizers of a New Year's Eve downtown parade have said they will not obtain a permit for the event, which will march up Pacific Avenue from Laurel Street."

About Last Night - Santa Cruz gets ready for another DIY New Year's Eve
Santa Cruz Metro - Dec 27, 2006
"Have you ever jaywalked? Have you ever filed for a permit to jaywalk? Have you ever jaywalked with a friend? Have you ever jaywalked with a few hundred friends?"

The Last Night Santa Cruz DIY Parade (PDF)
CityGuide San Francisco - Dec 12, 2006
"The crowd is the thing here, and whether that involves stilt-walkers, activist groups, alt.music performances or bike punks, all are welcome to come and show their stuff."

Unofficial parade set for Santa Cruz on New Year's Eve (PDF)
Santa Cruz Sentinel - Dec 12, 2006
"The New Year's Eve downtown parade that made its debut last year by a group of community mavericks is set to take stage on Pacific Avenue again."

Letters: New Years Celebrations (PDF)
Mid-County Post - Jan 24, 2006
"What a beautiful celebration. What an amazing group of people. Thousands of people came out New Year's Eve to participate in the people's parade that marched raucously up Pacific Avenue and spanned many blocks."
Press Coverage 2005
Undercover Officers Rile New Year's Eve Parade Planners (PDF)
Santa Cruz Sentinel - Dec 31, 2005
"Two men attended three meetings and did not let on they were police officers, giving false names, phone numbers and e-mail addresses."

Nuz: About Last Night Again (PDF)
Metro Santa Cruz - Dec 21, 2005
"This will be the inaugural Last Night DIY (Do-It-Yourself) Parade, combining two of the most popular pastimes in Santa Cruz: dressing in costume and resisting authority."

Filling the void left by First Night (PDF)
Santa Cruz Sentinel - Dec 15, 2005
"Whoever shows up at dusk on Pacific Avenue can join in with a parade that will feature many of the elements that locals will remember from the First Night Processional without the tightly controlled visual themes."

Silent First Night: Cities cancel family-friendly New Year's events (PDF)
Wall Street Journal - Dec 10, 2005
"But this New Year's Eve is going to look different: Political activists and street artists are planning a march through town with a "trash orchestra" banging barrels and pans."

Downtown Halloween ruckus raises concerns about New Year's Eve (PDF)
Santa Cruz Sentinel - Dec 3, 2005
"A splinter group calling themselves Last Night Santa Cruz have planned a 'completely organic' parade to replace the one organized by First Night"

Nuz: About Last Night (PDF)
Metro Santa Cruz - Sep 21, 2005
"various members of the community are organizing LAST NIGHT SANTA CRUZ to fill the void--and they're inviting you and everyone you know to help."
Press Releases
Last Night DIY Parade Returns in Full Force (PDF)
December 19, 2006 - Following police spying, decentralized celebration refuses permission to bring spontaneous parade to Santa Cruz streets.

Last Night DIY Paraders Issue Manifesto (PDF)
December 15, 2006 - Undaunted, this year's parade and celebration return in full force to take over the streets. It is a people's parade and everyone is invited.

Last Night Entertainment Release (PDF)
December 13, 2006 - Come express yourself and join the fun in Downtown Santa Cruz for a New Year's parade crammed with jugglers, clowns, samba drums, pirates, bikes, and marching bands.

Community Outraged by New Police Spying Policy (PDF)
July 5, 2006 - New SCPD rules still allow police to illegally spy on political groups; City fails in promise to pass strong policy protecting first amendment activities

Auditor: SCPD Violated Organizer's Civil Rights (PDF)
March 22, 2006 - Santa Cruz police auditor finds that officers violated free speech, free assembly, and privacy rights of parade planners

Investigation Reveals More SCPD Spying (PDF)
February 13, 2006 - Details of Internal Investigation Conducted by Santa Cruz Police Department reveal pattern of abuses: spying on other first amendment activities, profiling innocent people, gathering bad intelligence

Police Infiltrate Peaceful Parade Organizers (PDF)
December 29, 2005 - Undercover Officers Spying on Grassroots New Year's Parade Meetings

A Do-It-Yourself New Year's (PDF)
December 5, 2005 - Last Night Santa Cruz Offers a DIY New Year's Parade and Celebration

Police Spying Aftermath
In October 2005, Santa Cruz police learned about the planned grassroots New Year's Eve parade. Without attempting to contact parade organizers, SCPD chose to send two undercover officers to the planning meetings held in a private residence to learn everything they could about the group and the event. In the internal investigation, they claim to have been alarmed by what they described as "a defiant tone." Six months later, after pressure from the community and the ACLU and after the city's own police auditor concluded that police had violated the civil rights of citizens, the city finally put into place a grossly inadequate SCPD policy on police spying.

Get the full story and background on the Police Spying Scandal on the Last Night history page.

The police spying scandal was covered by local and regional newspapers, TV, radio, and weeklies. San Jose Mercury News, Santa Cruz Sentinel (daily), Watsonville-Pajaronian (daily), Monterey Herald, Contra Costa Times, Metro Santa Cruz (weekly), Santa Cruz Good Times (weekly), Berkeley Daily Planet, Pacifica Radio, Free Speech Radio News, , KUSP FM Central Coast, KZSC FM Santa Cruz, KSCO AM Santa Cruz, KSBW TV Salinas, KPIX TV San Francisco, CBS TV San Francisco, IndyBay Indymedia, and Indymedia Santa Cruz. This is a partial listing of articles on the subject listed in reverse chronological order.
Police impose rules on undercover investigations
KOIN, Monterey, CA - Jun 30, 2006

Everyone Loves a Parade
Metro Santa Cruz Nuz, CA - Jul 5, 2006

Black-Clad Protesters Angry At Santa Cruz Police
CBS 5, CA - Jul 7, 2006

Critics decry new surveillance rules for Santa Cruz police
Santa Cruz Sentinel, CA - Jul 6, 2006

Police Surveillance Policy Draws Protest
KSBW Channel.com, CA - Jul 5, 2006

Santa Cruz Police Impose New Undercover Rules
KSBW Channel.com, CA - Jun 30, 2006

Santa Cruz has new rules for undercover police
Santa Cruz Sentinel, CA - Jun 30, 2006

Policy Spying Scandal Policy Speak Out Tonight
Bay Area Indymedia, CA - Jun 27, 2006

Reportback of Santa Cruz Police Spying Policy Process
Bay Area Indymedia, CA - Jun 22, 2006

City Officials To Evaluate Santa Cruz Police Undercover Policy
CBS 5, CA - Mar 30, 2006

Santa Cruz to hammer out policy on undercover surveillance
Santa Cruz Sentinel, CA - Mar 30, 2006

ACLU Letter to City Council RE Police Spying Policy
Bay Area Indymedia, CA - Mar 29, 2006

Urgent Public Meeting Wed about Police Spying
Bay Area Indymedia, CA - Mar 26, 2006

Auditor: Santa Cruz Cops Likely Violated Rights
CBS 5, CA - Mar 24, 2006

Report faults cops' undercover activity
San Jose Mercury News, USA - Mar 23, 2006

Auditor criticizes Santa Cruz police for spying
San Jose Mercury News, USA - Mar 22, 2006

Santa Cruz Police Surveillance Criticized
KSBW Channel.com, CA - Mar 22, 2006

Independent Investigation: SCPD Violated Civil Rights Of Organizers
Bay Area Indymedia, CA - 14 hours ago

Audit: Police violated civil rights with New Year's Eve undercover operation
Santa Cruz Sentinel, CA – Mar 22, 2006

Keith Sugar: Parade spying undermines community trust in police
Santa Cruz Sentinel, CA - Mar 19, 2006

Undercover Follies
Metro Santa Cruz, CA - Feb 22, 2006

Santa Cruzans decry spying
San Jose Mercury News, USA - Feb 19, 2006

Santa Cruz police defend investigation into undercover meeting monitoring
San Jose Mercury News, USA – Feb 16, 2006

Auditor Finds Santa Cruz Police Internal Review 'Incomplete And Flawed'
CBS 5, CA - Feb 16, 2006

Police chief say city rushed department on internal investigation
Santa Cruz Sentinel, CA - Feb 16, 2006

SC Residents Doubt Validity of Police Investigation
City On a Hill Press – Feb 16, 2006

Investigation Reveals More Santa Cruz Police Department Spying
Bay Area Indymedia, CA - Feb 15, 2006

Real Security: Three Ways Not to Get It
Berkeley Daily Planet – Feb 14, 2006

Independent Auditor To Investigate Santa Cruz PD
KSBW TV 8, CA - Feb 13, 2006

Internal Investigation Reveals SCPD Out of Control
Bay Area Indymedia, CA - Feb 11, 2006

Police investigation clears undercover Santa Cruz officers who attended parade meetings
Santa Cruz Sentinel, CA - Feb 11, 2006

SCPD Police Spying Scandal - deputy chief leads investigation
Bay Area Indymedia, CA - Feb 6, 2006

Key Documents Detailing Santa Cruz Police Spying Now Available
Bay Area Indymedia, CA - Feb 1, 2006

FSRN: SCPD Spying Update
Bay Area Indymedia, CA - Jan 25, 2006

Coast Lines
Santa Cruz Sentinel, CA - Jan 25, 2006

Unanswered Questions
Metro Santa Cruz Nüz, CA - Jan 25, 2006

Council Votes Against Independent Spying Investigation
KSBW Channel.com, CA - Jan 24, 2006

Councilman calls for further probe of parade spying
Santa Cruz Sentinel, CA - Jan 24, 2006

City Leader Calls For Santa Cruz Police Probe
KSBW Channel.com, CA - Jan 23, 2006

About Last Night 3
Metro Santa Cruz Nüz, CA - Jan 11, 2006

"Just Us" Action Against SCPD Spying
Bay Area Indymedia, CA - Jan 11, 2006

Group Accuses Santa Cruz Police Of Spying
KSBW Channel.com, CA - Jan 11, 2006

City residents, ACLU demand answers about police surveillance
Santa Cruz Sentinel, CA - Jan 11, 2006

Police Infiltrate Peaceful Parade Organizers
Bay Area Indymedia, CA - Jan 1, 2006

Undercover Police Infiltration
KSCO FM - Dec 31, 2005

Undercover officers rile New Year's Eve parade planners
Santa Cruz Sentinel, CA - Dec 31, 2005